If you're planning to visit or move to Malta, then you've probably come across the "Malta vs Gozo" debate. As the only inhabited islands in the country, those hoping to visit the archipelago will have to make a choice, will they stay in Gozo or Malta?
If you've done your research you probably know that these two islands are quite different, even though they're only separated by a five-mile stretch of water. As a result, you may find yourself in a bit of a dilemma trying to decide where to stay.
If you're moving to the country, you'll probably end up visiting both islands no matter where you stay, but you still need to know which one of them you'll call home. Tourists, on the other hand, will probably miss out on one of them since visitors usually stay at a single resort for the duration of their trip.
Luckily for you, we know plenty about both islands, and this post will be the perfect guide to help you select the ideal location between the two. First, we'll look into each island individually, before comparing them and finally giving you a condensed list of pros and cons for each.
Hopefully, by the end of this post, you'll know which of these islands suits you best, both for visiting or settling permanently.
Malta Island
Approximately 80 km south of Sicily lies Malta, the biggest island on the Maltese archipelago, and the one that gives the country its name. A common destination for expats and digital nomads, Malta is great for those who prefer the hustle and bustle of a modern city.
Weather
If you love the sun, then you will probably love this island. Reason? It has one of the highest sunshine hours in Europe. Couple that with Malta's subtropical Mediterranean climate and you get hot, dry summers and mild, albeit wet, winters.
Geography
Thanks to the island's indented coastline, you'll find numerous bays which are perfect for boating or simply enjoying nice, secluded beaches. Once you head inland, the landscape is mostly comprised of low hills with terraced fields that look straight out of a postcard. Unfortunately, there are no permanent rivers or lakes.
Population
What about the population? Well, Malta is the biggest island in the Maltese archipelago, so you can expect the population density to be much higher than Gozo. In fact, in recent years Malta has seen a huge increase in immigration, so you'll find thousands of expats living in Malta.
If you'd prefer to get to know the locals instead of hanging out with expats, you're in luck. Most of the Maltese population also speaks English, so there won't be a language barrier making things awkward.
Entertainment
Despite its size, Malta has plenty to offer. You can experience golden beaches, a lively capital, Neolithic sites and beautiful fishing villages. In our experience, living in Malta feels like you're on holiday. If you want to live in a bustling metropolis, with endless things to do and places to explore, then Malta is probably what you're looking for.
Cost of Living
No two places are the same, so it's to be expected that the cost of living in Malta will probably be different than where you're coming from. Whether you're coming as a tourist or immigrating, it would serve you well to consider the different costs of living in Gozo vs Malta.
Fortunately, Malta has something for everyone. There are plenty of luxurious hotels and restaurants, but those wishing to travel or live on a budget can do so as well. However, the prices of accommodation and restaurants in Malta tend to be the highest in the archipelago, so keep that in mind when deciding which location is best for you.
Job Opportunities
Tourists and short term visitors probably won't concern themselves with the state of the job market of their vacation spot, but those hoping to settle permanently and work in Malta should make it a priority when deciding which island is best.
As the main island, Malta significantly contributes to the country's economy. The backbone of the island's economy is tourism, with the transport, banking, and finance sectors also making significant contributions to the workforce. Therefore, those experienced in these fields should consider living on the island of Malta.
Getting to Malta
Needless to say, being able to reach your destination easily is a crucial consideration before you decide to relocate, even more so for those who plan on travelling in and out of the country frequently.
Reaching Malta might be a little different from what you're used to, especially if you've lived in several cities in Europe. That's because the island is an archipelago, which means that you cannot access it easily through overland travel.
The most straightforward way to get into Malta is by air using Malta's international airport. The airport is situated at the centre of the island, which is approximately 25 minutes away from the city of Valetta.
You can get into the island using several airlines, including some European budget airlines, which is great for those hoping to fly back home often, or simply vacation on a budget. Even if you're not flying in from Europe, there are also plenty of routes that connect the island to different parts of the world.
If you feel like taking the scenic route, you can access Malta through ferry boats. There are several routes that set sail from different areas, including the cities of Pozzallo and Catania in Sicily to the port in Valletta.
The ferries sail a couple of times per week. The ferries can also be a viable option for those hoping to visit the Southern parts of Italy while living on the isles.
Overall, Malta is easy to reach. That's because the island hosts the country's international airport and has three main ports, including a port for ferry arrivals from different parts of the world.
Transportation
Once you get to the island, you will realise it's quite easy to navigate. You could either get a car or use the bus. The public transport system across Malta is quite affordable and also easy to navigate. Although not perfect, the Maltese government is striving to improve their public transportation, and it can still get you to most places.
Alternatively, whether you're visiting or settling, you can either rent or buy a car to improve your flexibility and move around the island without having to rely on public transportation. Your own car allows you to go to hard-to-access areas, as the buses in Malta won't take you everywhere you'd like.
However, you must keep in mind that not everyone can drive in Malta. For starters, those under 23 aren't allowed to rent a car. Even if you can drive, the island's dense population means heavy traffic during rush hours.
Therefore, if you take your car to the city at specific times, finding a parking spot might prove challenging. Luckily, there are lots of private parking spots, and you could always take a walk when you are in busy areas.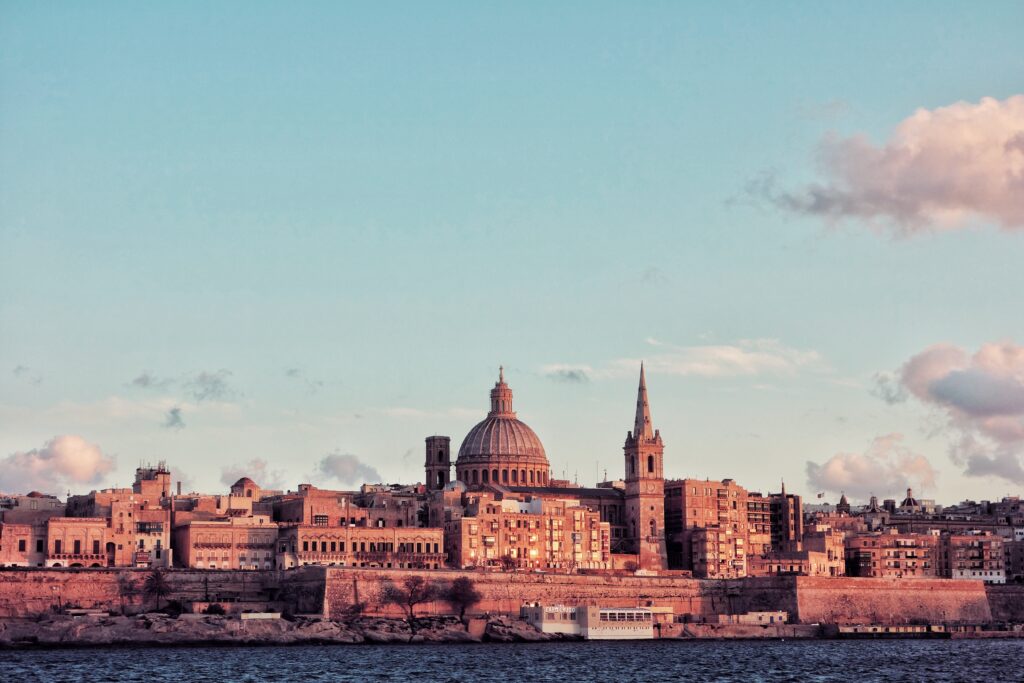 Gozo Island
Now that we've already reviewed Malta, it's time to take a peek at Gozo Island. While a lot smaller than Malta, it's still the second-largest isle on the archipelago and a wonderful place to live.
The area has a rich history, including historic locations, such as archaic temples. If exploring some of the world's oldest free-standing structures is your idea of fun, then Gozo might be the place for you — because it has plenty.
Unlike Malta, Gozo has a rural, peaceful setting, which makes it an ideal place for those who want to relocate to a calm and serene environment. It could be most suitable for you if you're tired of the hustles and bustles of the city.
Entertainment
Much like Malta, Gozo is famous for its beaches. In fact, while peaceful for most of the year, during the summer months beach resorts like Xlendi and Marsalfor become filled to the brim with tourists.
Moreover, the area is famous for watersports. So, if you are into diving, you might want to stay here. The island is renowned as one of the top diving destinations in the Mediterranean.
Culture
The island is amazing for those of the Catholic faith. It has a large number of Catholic churches that you could attend, plus one of the largest domes in the world.
Safe to say, Gozo doesn't hold back its fervent Christian roots. You will notice churches, cathedrals and chapels around every corner of the island. The buildings not only represent the faith of the people but also beautiful architecture. Even if you're not religious, the historic architecture itself makes the island worth visiting.
Beautiful Vistas
Gozo is a little bit wild as compared to Malta, which makes it ideal for getting in touch with nature. Simply driving around is an amazing experience, as you'll find lush greenery and jaw-dropping vistas everywhere you go.
Getting to Gozo
As we've discussed in the previous section, one of the vital things to consider when choosing a place to stay is its accessibility.
Would you like to live in Gozo? Well, then you must know that you can only access the island through Malta. Even if you live in Europe, there is no means to access the island directly. However, this usually isn't a problem because the ferry ride from Malta to Gozo takes only about half an hour.
In order to reach Gozo, you have to get to Cirkewwa ferry port, located in the north of Malta. You can take a taxi or bus to the port. From here, you can board a ferry boat that will take you to the island.
In fact, since you have no choice but to take a ferry in order to get to Gozo, you actually don't pay for the ferry ride. You are only required to pay when you make your return trip.
Transportation
Once you reach Gozo, you will realise that using public transport doesn't make navigating the island necessarily easy. While the island has a reliable bus network, which can take you to most of the areas on Gozo Island, it takes a while to get the hang of it.
Much like Malta, you will have an easier time getting around the island using your own vehicle. Having a car allows you to explore the rural island without relying on public transport.
Alternatively, you can always go on foot because the island isn't that big. Most of the distances within the area are negligible, plus it has roads that are fairly pleasant to walk on. If you love walking, you might also take advantage of the island's footpath network. However, keep in mind that Gozo has relatively steep hills, so it might prove a bit challenging for seniors.
Gozo vs Malta: A Breakdown
Call us a little biased, but we think both Gozo and Malta are exceptional places to live.
However, to further assist you in the process of deciding which is the right island for you, we've addressed some standout aspects that differ between the two for your consideration.
Accommodation and Services
It shouldn't come as a surprise that Malta, as the larger, more populous island, has more accommodation and hospitality options than Gozo. However, that doesn't mean that Gozo's hospitality industry is lacking in quality. Just that as a smaller island, there are fewer options to choose from.
Transportation
Transportation and other related services are more prevalent and accessible in Malta when compared to Gozo. However, traffic in Malta might, at times, be a turn off for some. With the exception of high traffic tourist areas, you'll probably never encounter traffic on Gozo.
Furthermore, Gozo offers you a lot of reliable bus routes, making the island more preferable than Malta when it comes to public transportation.
Convenience and Affordability
There's no arguing that Gozo is more affordable than Malta. However, that affordability comes at a price. Don't be surprised if you find yourself travelling to Malta proper to find certain products or services that aren't available on the smaller island.
Even those businesses that are available usually close their doors quite early, so night owls should consider choosing Malta instead.
Scenery and Attractions
When it comes to scenery and attractions, Gozo undoubtedly takes the cake. Gozo is a preferred tourist destination because of its natural beauty.
While Malta has a lot of urbanisation, the island of Gozo features a unique, hilly landscape. It has plenty of open space and a friendly local population. In fact, when you compare the two, you might feel like you're in an entirely different country.
However, there's an important aspect you should know about Gozo. Although the island has many appealing natural attractions, there's limited tourist support and guides. On the other hand, you can find plenty of these in Malta.
Serenity vs Entertainment
Succinctly, Malta is the shopping, bustling party, and entertainment side of the Maltese Archipelago while Gozo is the more secluded and peaceful side of the two. Before deciding which side of the archipelago you want to move into, therefore, you must decide whether you want tranquillity or excitement.
Additionally, Malta has plenty of activities you could engage in and more people to meet. On the other hand, the island of Gozo is less popular; hence, it stays less crowded. Generally, Gozo is the place to go for if you prefer the great outdoors instead of crowded areas and cities, while Malta is for those who would rather stay in a bustling metropolis.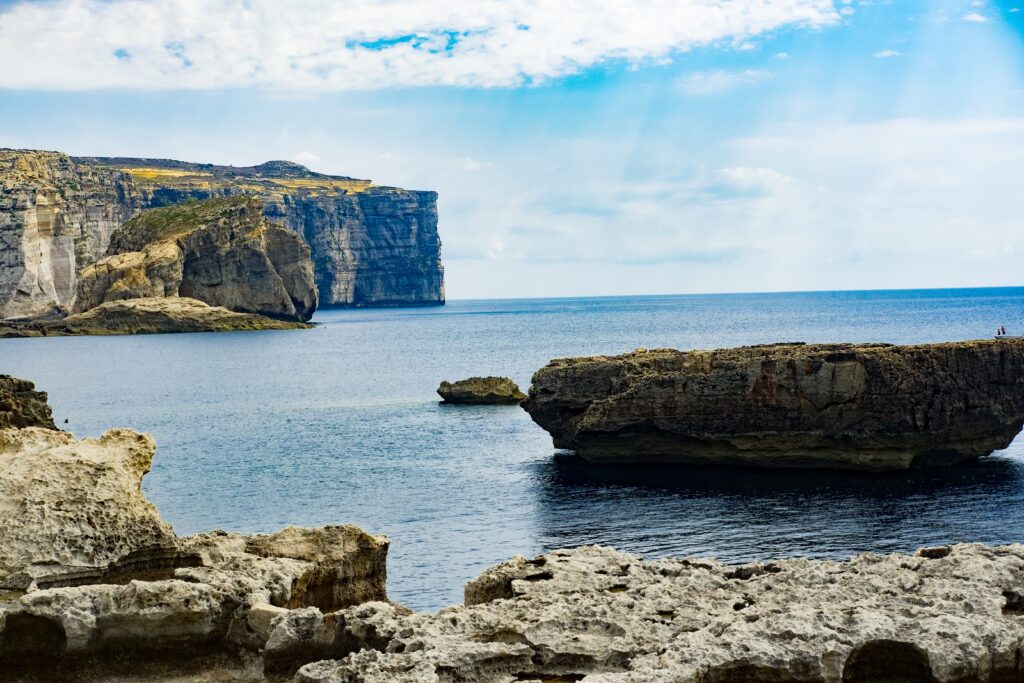 The Pros and Cons of Each Island
The best way to decide whether you're going to choose Gozo or Malta to live on is to visit them both. However, not everyone can take a vacation just to get a feel for the country. To help those who can't visit themselves in the decision-making process, we've highlighted some of the key pros and cons of visiting each.
The Pros of Staying in Malta
For those thinking of staying on the main island, these are some its best features:
The main island has more accommodation services, including rental services.
There are plenty of tours and activities to enjoy.
The island is home to an exhilarating night-life scene.
Malta proper has a significant number of historical sites and cultural exhibits.
Malta's cities and town feature impressive architectural sites.
The Cons of Staying in Malta
No place is perfect, not even Malta. These are some of the things we're not so thrilled about:
As the country's mainland, you can expect the island to be densely populated.
Prices in Malta tend to be higher than they are in Gozo.
Unfortunately, public transport within the island is unreliable.
The Pros of Staying in Gozo
If the big city is too loud for you, Gozo might be a better choice. These are some of the best things Malta's "little sister" has to offer:
Gozo offers tranquillity and a peaceful way of life.
The island is relatively untouched, and has natural beauty and scenic spots.
Driving isn't necessary in Gozo, since public transport is very reliable.
Since prices are lower, Gozo is ideal for budget travellers.
The Cons of Staying in Gozo
A slow and peaceful way of life sounds like a dream come true for many, but it still has its downsides. These are some of our biggest gripes with Gozo:
The region has fewer tour guides when compared to Malta.
As expected of a small town, businesses in Gozo tend to close early.
Since Gozo's natural beuaty is left untouched, you may be forced to create your own paths.
Is It Gozo or Malta for You?
Choosing between the two islands is a tough call for anyone hoping to visit the archipelago but, hopefully, this post has made your decision process a bit easier by showing you what makes each island unique.
For those lucky enough to live in Malta, I'd say try both. Take a few days to experience each and you'll realise that anyone would be lucky to call either of these beautiful locations home.
Are you still struggling to decide? Did we miss some of your questions? If so, reach out and I'll be happy to answer them!