Stretching out over a series of islands in the Mediterranean, Malta is a delightful location that draws people in through rich history and beautiful landscapes. A single visit to this country can have you falling in love with it, and it's no wonder that so many people decide to move to Malta to live both part-time and full-time.
It doesn't matter if you're living as an expat or simply visiting, you've probably realised that being able to drive yourself around is simply more convenient. While buying a car in Malta might seem like a complicated endeavour at first, it doesn't need to be.
In this guide you'll learn everything there is to know about driving in Malta, both as a tourist or a resident. We'll also look into getting a Maltese licence and the process involved in buying your own car.
Driving in Malta
When it comes to driving the roads of Malta, it is important that you find yourself within the letter of the law. Tourists and new residents can rest easy knowing that their UK or EU driving licence is valid for 12 months after entering the country. You should also be aware that the minimum driving age is 18, but those under 23 are not allowed to rent vehicles.
For the most part, experienced drivers will easily be able to learn and adapt to the rules of the road in Malta. Driving laws worldwide are based on common sense, so learning the rules of another country shouldn't be too hard.
However, it should be noted that Malta uses left-hand driving. Serving as a reminder of its past British colonisation, the Maltese drive on the left side of the road, with the steering wheel on the right of vehicles. Those who are used to driving on the right side of the road might need some time to adjust.
Within the isles, dialling 112 will put you in touch with emergency services. Knowing the emergency number can help you should you run into trouble on the road, be it witnessing unsafe driving, seeing an accident, or being in an accident yourself.
Just remember, calling from behind the wheel may not be the safest or smartest decision that you can make, even if you are trying to do so out of kindness and concern for others.
Understanding Malta's Road Rules
Although learning the rules of the road should be about safety — not avoiding fines — drivers should be aware that there are both fixed and mobile cameras around the country dedicated to monitoring the roadways. Respecting speed limits and other regulations is not only mandatory but also the best way to keep the roads safe.
Speed Limits
Malta is small enough that it requires no major motorways, which means you won't be blazing through the country at high speeds. When it comes to the streets of Malta, the sign-posted speed limit is typically no more than 50 kilometres per hour in urban areas.
Rural areas have a slightly increased speed limit of 60 kilometres per hour, and go as high as 80 km/h on open roads.
Of course, speed limits are only the maximum legal speed you are allowed to drive on a given piece of road. While it is necessary to not exceed sign-posted speeds, always keep your eyes open for other hazards or situations that require you to slow down.
Seatbelts
Seatbelts are required in Malta whether you are sitting in the front or back seat. Families traversing Malta roads should know that children cannot travel in the front of a car without an appropriate seat or restraint system, which will vary depending on their age, weight and height.
The Maltese government offers a detailed guide for those looking to travel with young kids.
Driving Distractions
In general, it is a terrible idea to be on your phone while you are behind the wheel of a vehicle. That is why Malta maintains a hands-free rule when it comes to driving. Leaving your phone to the side is an easy way to ensure that all of your attention is going towards safely piloting your vehicle along the roadways.
Drinking and driving is another combination that is a no-go in a majority of places — and Malta is no exception. Anyone driving with a blood alcohol content level above 80 mg is considered to be drunk driving. Doing so will net you a large fine, confiscation of your licence, and even imprisonment.
Drinking and driving can be dangerous, even within the legal limit, not to mention that once you start drinking it's easy to get carried away. We believe it's best to err on the side of caution and avoid alcohol at all if you're planning to drive.
Parking
Parking laws in Malta are similar to those of North America and much of Europe. Avoid parking in double yellow lines, garages or "resident only" zones, and respect timed parking. Failure to do so can result in fines, clamping, or even having your car towed.
Of course, if you'd rather skip the hassle of figuring out parking, there are private parking spots close to large shopping centres.
Obtaining a Driver's Licence
It goes without saying that in order to drive around in Malta, you'll need a driver's licence. Those visiting or just passing through might be able to do so with their current licence, depending on their country of origin. However, permanent residents will eventually require a Maltese licence to get behind the wheel.
Driving on Your Current Licence
If you're simply visiting Malta and wish to drive around, you'll have to look whether you are allowed to drive on your current licence. This will depend on the country that issued said licence.
As a general rule of thumb, non-EU licences are only valid for a maximum of 12 months following your entry into the country, which should be plenty for most tourist or short term visitors.
Of course, specifics will vary for different countries so be sure to consult Transport Malta, the official governing body of the transport sector, for more information.
Exchanging Your Current Licence
If you are moving to Malta or wishing to stay for longer than 12 months, you will eventually have to acquire a Maltese licence. EU drivers are the exception since their licences will be recognised for as long as they are valid in their country of origin.
Depending on where you are from, there is an option to exchange your current licence for a Maltese one. This can only be done 185 days after relocating to Malta, and is only applicable to those who hold a licence from the following countries:
Another Member State of the European Union (EU) or the European Economic Area (EEA); or
Switzerland; or
Australia; or
The United Arab Emirates (UAE)
Citizens of the United Kingdom should note that the time frame for both the validity and exchange of their licence is dependent on whether they were living in Malta before January 1, 2021.
If they were living in Malta prior to January 1, 2021, they have until December 31 of the same year to exchange their licence for a Maltese one, while also passing a test (although this requirement is under negotiation). After this date, their UK driver's licence will no longer be valid.
UK licence holders who moved to Malta after January 1, 2021, have the same 12 month grace period as other countries.
Transport Malta has extensive guidelines, outlining all the requirements for exchanging your foreign driving licence here.
Applying for a Maltese Driver's Licence
If you an not eligible to exchange your licence, getting a Maltese licence can be a lengthy process. To obtain one, you must be at least sixteen years old and pass both theory and practical exams, as well as submitting several documents.
Obtaining a Learner's Permit
The first step to getting a Maltese driver's licence is applying for a Learner's Permit. Note that there are various categories of licences and requirements to meet, so it is important to select the correct licence category and be fully aware of the required fees, forms and medical tests.
Transport Malta provides detailed steps on the entire process and all the requirements here.
Sitting the Theory Exam
To obtain a learner's permit, you need to pass a theory test that examines your knowledge of local traffic laws, including the Highway Code. A multiple choice exam, it is completed through a touch-screen computer. It currently costs €30.25, and if you fail it can be retaken for another €22.50 fee.
Lessons and the Practical Test
Once you pass the theory test, you are allowed to take driving lessons with an accredited driving instructor, or a non-licenced driving instructor (who must meet certain requirements).
After completing the necessary training you can take the Practical Test, which consists of a minimum of twenty five minutes of road driving, as well as a pre and post briefing, technical check and special manoeuvres testing.
Successfully completing the Practical Test will result in a probationary licence, which is valid for three years and subject to a penalty point system.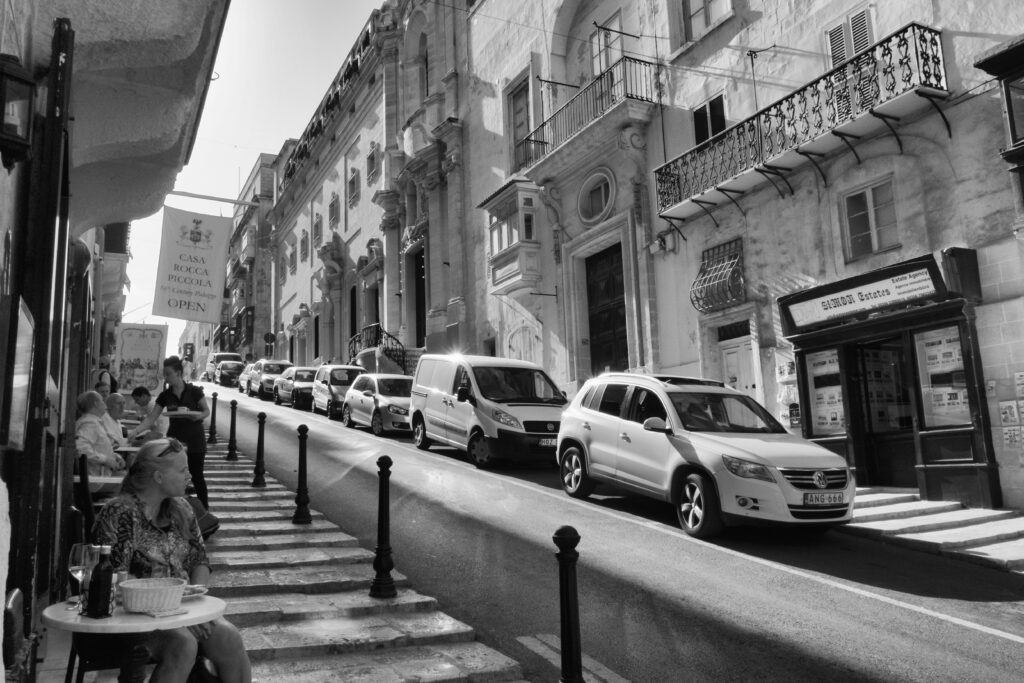 Buying a Car in Malta
Now that you have a licence, it's time for you to get some wheels. Luckily, finding cars for sale in Malta is a relatively straightforward process. If you've bought a car before, then buying a car here should be no different.
While buying the car does require some paperwork, if you stick to our guide it shouldn't be too hard to get things moving.
Where To Buy a Car
Malta is home to several dealerships that sell new cars, but you'll probably pay more here than you would back home. If you want to save some money on your car purchase, look into buying a used vehicle instead. Luckily for you, Malta is home to a thriving used car market.
When it comes time to buying a car in Malta, many vehicles come with warranties of varying lengths depending on their age and model; most Maltese vendors offer both trade-in deals and interest-free loans as well.
The more research you do beforehand, the better equipped you will be when making your decision. Don't be afraid to ask questions.
Making the Purchase

Finding a car that's to your liking is only the first step. Once you purchase a vehicle from a dealership or private seller, you'll have to go through a few more to complete the process.
First, your car will have to pass a Vehicle Roadworthy Test at one of Malta's approved garages to make sure it meets all legal requirements for safety and security.
Then, you'll have to transfer ownership to yourself or another person by submitting relevant documents. Conveniently, it can be done online. When applying online for transfer of ownership, there are several documents you'll need to include:
A certificate issued by an approved garage certifying that your vehicle meets all legal safety requirements.
Official identification — for example, copies of drivers' licenses — from each person listed on the registration papers, including yourself.
Taxes and Insurance
Once you've transferred ownership of the car, you'll have to deal with taxes. Your vehicle needs to be registered with Maltese tax authorities.
After obtaining receipt of payment for vehicle taxes, you must keep this in your vehicle at all times whenever it is outside of private property. When driving or parked publicly it must be visible through a window.
Finally, you'll have to ensure your vehicle has insurance through an approved company, and carry proof of this insurance in your car. Failure to do so can result in fines ranging from €250-€500 for cars under 3,500 kilograms and €500-€1,000 for vehicles over 3,500 kilograms.
Welcome to the Streets of Malta!
With the rules of the road mastered and your car purchased, the Maltese roads are yours to conquer! Whether you are running errands in your vehicle or taking the opportunity to explore the many wonders of the country, being able to drive yourself and not having to depend on any other services can only make your life better.
Hopefully, this guide has provided you with all the details to allow you to safely and confidently drive in Malta. If you still have questions regarding driving laws, getting your licence or purchasing a vehicle, send them my way! I'll be happy to guide you through the process.