Five kilometres off the Maltese coast lies Gozo, commonly referred to as "Malta's quaint and unique little sister." Anyone who's thought about moving to Malta, but would like a more sedate and easygoing lifestyle should consider living in Gozo instead.
Although only a short sea stretch separates the two isles, they are quite different. For starters, Gozo is only about a third the size of Malta and is more tranquil and rural. In Malta, you'll find the hustle and bustle of big cities, while in Gozo, the way of life is still rooted in tradition.
If you are looking for tranquillity and a change of scenery, Gozo will be the perfect place for you. Things move at a leisurely pace, and the flow of life is dictated by agriculture, fishing, and the different seasons. If you are thinking of moving or retiring to a quiet place, the island can give you just that with its lush greenery, tiny villages and rural charm.
In this guide, we'll cover everything you need to know about living in Gozo, including the cost of living and the best locations to settle down in. Read on and find out if Gozo is the Mediterranean paradise you've been looking for!
Where to Live in Gozo
Even though it's a small island, your experience in Gozo can vary drastically depending on where you settle — some areas offer peace and quiet, while others are filled with tourists year-round. Luckily, the island's size means that everything is just a 15-minute drive away.
Those who are thinking about retiring and having a peaceful and quiet life should try to avoid living on main streets, since most of the major roads lead to Victoria. Additionally, look beyond Xewkija, Ghajnsielem, and Mgarr as they can get quite busy during the peak tourist seasons.
Instead consider Zebbug, San Lawrenz, Gharb, the outer edges of Qala and Nadur, and parts of Xaghra. And if you would like a picturesque view, consider moving to the western side of Zebbug and try to find a place higher on one of the two hilltop plateaus.
When you live in the quieter areas, driving can make things easier. But even if you haven't bought a car, you can move around via the affordable bus network, which runs all over the island.
On the other hand, those who want to experience the exciting side of Gozo should head for Xlendi and Marsalfor. They are the most popular beach resorts, meaning there will always be plenty of visitors during the months of summer.
There are plenty of expats in Gozo who have nicely settled in. If you have never been to Gozo, it may be best to visit the island to get a feel of it and explore the different towns to see which one best suits you. This will help you make an informed decision instead of moving without ever having been to the place.
The Cost of Living in Gozo
The cost of living is relatively affordable. For instance, you will spend €3 for a whole day's bus rides, and your pets will ride for free. Health care costs are low, and a meal at a fancy restaurant will only set you back about €25. Living in a rental can cost you about €437.50 per month, depending on the town you are in. Essentially, you can easily live on a small budget here, while having access to top quality food.
While you live a nature-surrounded, affordable, and quiet life, mainland Malta is only a few minutes away — providing you with anything else you may want that is not available in Gozo. A ticket to and from the mainland on the ferry costs less than €4.65 for passengers and €15.70 for a driver and car.
There is also an international airport in Malta, so travel is still easily accessible.
Summing up, the cost of living is quite affordable, and you get to live a peaceful and quiet life — all the while having easy access to everything you need.
Why Live in Gozo?
Trying to decide whether you should live in Gozo or Malta?
Well, if living in a beautiful Mediterranean paradise with peace and quiet while bustling cities are within a few minutes isn't enough to convince you, here are some other reasons why you should consider living in Gozo.
Peaceful, but Close to the City
Gozo is mostly a rural area, which is excellent if you are trying to get away from the city. There is practically no chaos on this beautiful island, and you can take a ferry ride to cosmopolitan Malta if you require business services or a vibrant nightlife scene.
Gozo and Malta are two different worlds, yet they exist within reach, so you can always visit Malta if you miss the city life after moving to Gozo.
A Simpler Lifestyle
Life in Gozo is simpler and less isolating. You won't feel like a cog in the machine as you would in a bustling metropolis. On the contrary, people here are kind, and they have time for you. Coffee shops, workshops, and classes are filled with opportunities for you to go and meet new people.
Plenty of Activities
There are all kinds of retreats in Gozo, from yoga to detox. This isn't surprising, seeing as the environment itself makes you want to go out and explore. The views are inspiring, the atmosphere is peaceful, the air is clean, and the place is green. It's an exercise lover's dream in a nutshell.
Community
There is a strong sense of community in Gozo, and people are so nice and helpful. Not too long ago, your neighbours would take offence if you did not leave your key in your home's front door. This gradually changed as more people from outside started coming in and settling in the area. Thankfully, however, the small-town sense of community remains strong.
Local Gozitans will always lend a helping hand to anyone who needs it, and they know all their neighbours. On Sunday mornings, they like to gather in the village square to catch up on the town's gossip. The welcoming locals and tight-knit communities easily inspire a sense of belonging.
Life Can Be Slower Paced
While there are plenty of activities one could indulge in, typically the life here is slower-paced. There is no heavy traffic or people rushing in the streets. In more ways than one, time stands still, and life is more relaxed on Gozo.
The locals are laid back, and they always seem to have time to hold a conversation and indulge in pastime activities like making Maltese lace, known as bizzilla. Generally, the atmosphere is relaxed, so this is the perfect destination to settle in and leave the city life behind.
Amazing Views
If you enjoy nature, then you will love Gozo, because great views are a dime a dozen here. Open walks are always just a couple of minutes away, and all you will see are a couple of scattered buildings and green fields. There is also the view of the wide expanse between the sky and the sea.
We recommend renting out a Gozo farmhouse if you are visiting to get a lay of the land before moving. Don't be confused by the term "Farmhouse", these usually come with a jacuzzi, pool, and other similar forms of luxury, and you can get a room that has a view of the Maltese islands.
Even if you don't want to splurge on a fancy house, there is no lack of beautiful scenery. A simple drive around the island is a treat in itself. The villages and towns are well separated, instead of spilling into each other.
Hiking Potential
If you enjoy nature, chances are you also enjoy hiking, and Gozo is filled with dramatic scenery. The hiking potential is second to none and the views from each route are breathtaking, a picture-perfect, postcard view that many only dream of seeing.
It Has an Authentic Mediterranean Charm
Gozo has an authentic Mediterranean charm. Filled with nooks and crannies for you to discover, it has Maltese balconies, quaint little streets, and old farmhouses in the middle of nowhere standing alone.
You will encounter village grocers with beaded curtains that look straight out of a classic movie, and ducks or chickens on the roadsides.
In essence, Gozo offers the best of both worlds. It's sheltered from modernity but doesn't sacrifice comfort. It is the perfect place to retire in and even better for digital nomads trying to escape the city life, without giving up on modern amenities.
Weather
The sea significantly influences the climate and weather in Gozo. In classic Mediterranean fashion, there's cool and short winters, sporadically wet and warm autumns, and dry and hot summers.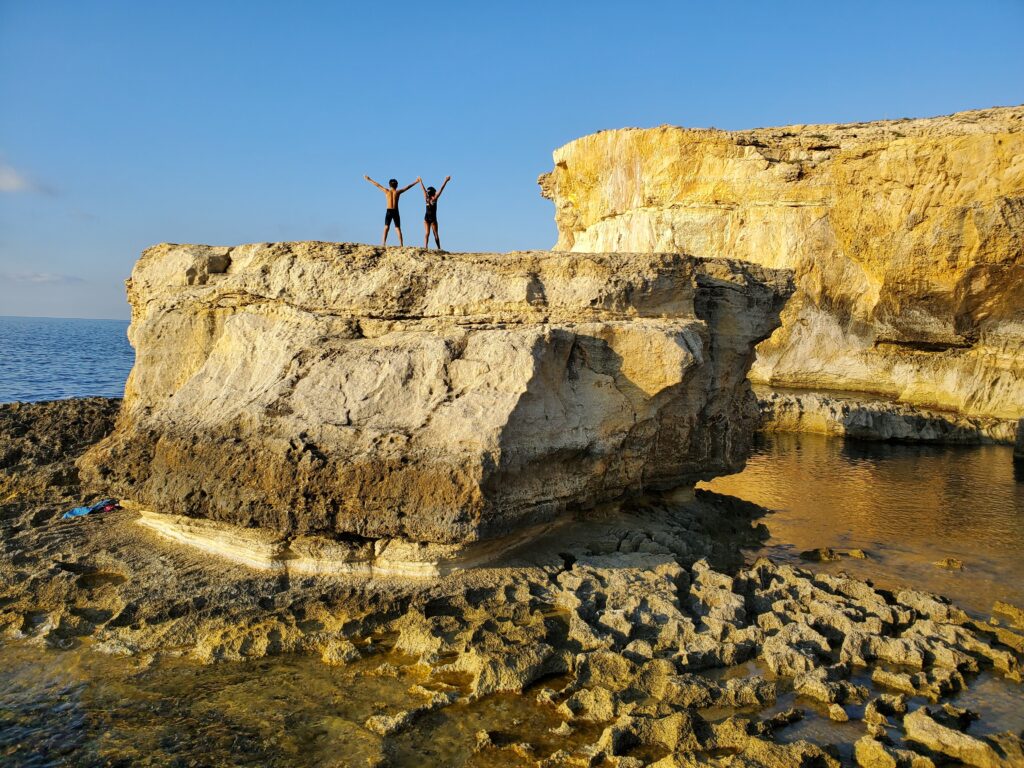 The Pros and Cons of Moving to Gozo
Moving to a different country is a big decision, and moving to a small, tight-knit community in a foreign country is an even bigger one. Before you pack your bags and book a flight, you should know all there is to know about your destination. That means the good and the bad.
So, without further ado, here are the pros and cons of living in Malta's sister isle.
The Best Things About Gozo
Yes, some of these I've mentioned before, but saying this small island is amazing is an understatement, so here we go:
Depending on where you live, there is no noise from traffic or people.
Life is quite affordable, from rent to healthcare and food.
Life is simple, quiet and you can easily escape from the busyness of modern life.
There are very few cars on the road in Gozo, and you can practically count the number of traffic lights operating.
Almost everyone speaks English, so language won't be an issue.
Crime here is practically non-existent.
It has a rich and unique culture for you to discover and immerse yourself in.
The food here is amazing, and there are plenty of wonderful seafood restaurants.
The Not-so-Great Things About Gozo
Nowhere is perfect. Not even Gozo. As with every other place in the world, there are some downsides to living here. Hopefully this will help you avoid the cycle of moving to a place and thinking it is great, only to realise a few of months later that the move may not have been the best idea.
Listed below are a few of my least favourite things about the island:
You may still be subjected to noise, especially when you live in the city center.
There is traffic whenever people from Malta visit, especially during the summer.
Restaurants and bars have taken over the seaside bays, and there is barely any space for civilians to stroll.
Ready to Say YES to Gozo?
Hopefully this post has helped you decide whether Gozo is the right place for you. As a relatively affordable location with beautiful vistas and beaches, it has plenty of activities for people of all ages, while also offering peace and quiet and without giving up on comfort. And it is only minutes away from Malta.
I wouldn't be surprised if you've already booked your ticket.
Jokes aside, anyone who's been thinking about moving to Malta, but would prefer to skip the annoyances of living in a bustling city, should consider moving to Gozo instead.
So, is Gozo the Mediterranean paradise you've been looking for? If you think Gozo is a good fit, but would like to know more, contact me today. As a relocation expert, I'll gladly answer your questions and help make your move to Gozo as easy and stress free as possible.