There is a long list of reasons for why you might want to live in Malta. We have some of the best weather in Europe — partly because we're on the geographic edge of the continent. Our country is packed with culture, surrounded by beaches and full of people enjoying a laidback way of life.
Malta also has a stable government, which respects the rule of law and delivers a relatively crime-free environment to the Maltese people. Our economy is forward-looking and set up to focus on growth for the foreseeable future.
Maybe most importantly, we took the decision over fifteen years ago to join the EU and participate in the European community. Malta approaches the rest of the world with open arms.
That, in part, means that Malta has one of the world's strongest passports. Being able to carry the passport ranked 9th by Henley Partners is one of the great advantages of Maltese citizenship.
So, how easy is it to get Maltese citizenship? The answer depends on your family, how much time you have and your willingness to spend money on the process.
This comprehensive guide will take you through the process of setting yourself up to become a citizen of Malta. We'll cover the time it takes, requirements for each of the routes to citizenship and the fees involved.
How to Become a Maltese Citizen by Descent
Compared to the average, Malta makes greater allowances for granting citizenship to those who were born abroad but have a family connection to Malta.
Let's start with those who may already be a citizen of Malta by birth. This can get confusing based on the dates of Malta's independence. Scroll to the appropriate section based on when you were born:
If You Were Born Before 21st September, 1964
You are eligible if you were:
born in Malta and at least one of your parents were born in Malta; or
born abroad but your father and a paternal grandparent were born in Malta and as of 20th September 1964 they were still citizens of the United Kingdom and Colonies.
If You Were Born Between 21st September, 1964 and 31st July, 1989
You are eligible if you were:
born in Malta during and your father, who was not a citizen of Malta, did not enjoy diplomatic immunity in Malta; or
born abroad and at the time of your birth your father was a citizen of Malta by birth (in Malta) or by naturalization or by registration.
If You Were Born After 1st August, 1989
You are eligible if you were:
born in Malta and at the time of your birth, your father or mother was a citizen of Malta or a person who enjoyed "freedom of movement" (a person born in Malta of parents born in Malta before 21st September 1964) and ceased to be a citizen of Malta after emigrating; or
born abroad and at the time of your birth, your father or mother was a citizen of Malta by birth (in Malta) or by naturalization or by registration.
The Maltese government amended the Maltese Citizenship Act in 2007 to open the possibility for registering for Maltese citizenship by descent to more people. You are eligible if you can prove that you have:
At least one parent who is descended from an ancestor born in Malta.
And that ancestor's parent was also born in Malta.
It's important to note that any living parents or grandparents, through the line of descent, must also apply for Maltese citizenship. If ascendants in the relevant line were alive on August 1, 2007 and died after August 1, 2010 without applying for Maltese citizenship, the line is broken and you are ineligible.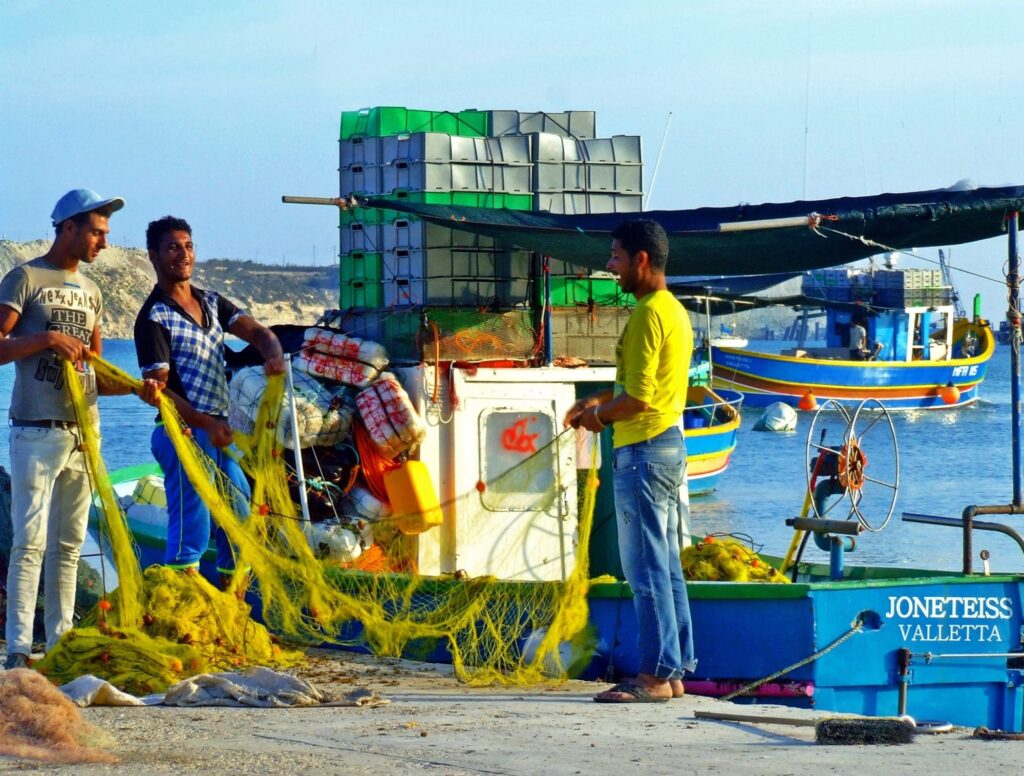 Even though it's a relatively straightforward idea it can sound a bit complicated.  So, let's have a look at an example:
You and both of your parents were born outside of Malta.
But your mother's father was born in Malta and so was his father.
You'll need to prove your relationship to your mother, maternal grandfather, and maternal great-grandfather with birth certificates and marriage licenses.
In general, as long as your maternal grandfather was a Maltese citizen or died before August 1, 2010, you may be eligible to register for citizenship by descent.
Brexit has caused an uptick in Britons applying for Maltese citizenship by descent.
What's the Process for Establishing Maltese Citizenship by Descent?
The form for registering for Maltese citizenship is available online from the Foreign Affairs department website. The application form will need to be supported by long-form originals of the relevant birth certificates, marriage licenses and other documents.
You may be able to submit your application to a Maltese embassy, high commission or consulate near where you live.
It's tough to say exactly how long it takes to get Maltese citizenship by descent recognized. Turnaround times can range from five months to two years. Also, take into account that it might take several weeks to receive all of the documents needed to accompany your application.
Getting Maltese Citizenship by Marriage
Like descent, getting Maltese citizenship by marriage is a subset of the routes to citizenship formally known as citizenship by registration.
You can get citizenship by marriage if:
You are married to a citizen of Malta and the two of you have been married for at least five years. Plus, you are still married and living together on the date of your application.
You are married to, but legally separated from, a citizen of Malta. And you must have been married for five years and also lived together for at least five years after your marriage was celebrated.
Or if you are the widow or widower of a citizen of Malta and you were married to them (or would have, but for their) for five years.
The Technicalities of Registering as a Citizen of Malta by Marriage
To process your registration of citizenship by marriage, Identity Malta requires the following documents and other items:
A marriage certificate
Birth certificate of the applicant, with their parents' names
Passport
Maltese e-residence card (if you have one)
Three passport-sized photos of the applicant
Spouse's birth certificate
Spouse's father's birth certificate
Spouse's parents' marriage certificate
Spouse's passport and identity card
You and your spouse will have to provide a joint affidavit that you have lived together for at least the minimum amount of time. You'll also have to swear the necessary oaths.
Just like registering for citizenship by descent, this process can be completed in Malta at Department for Citizenship and Expatriate Affairs or abroad at a diplomatic mission.
There is a fee of €79.60 due on successful completion of your registration when you pick up your certificate of citizenship.
How to Become a Naturalized Citizen of Malta
This option is open to those who don't have a (sufficient) family connection to Malta and involves moving to the country, living there for a set period of time and then applying to have your permanent residence status upgraded to citizenship.
It's very important to note that this is not an automatic conversion of status after a couple cursory tests are passed and an oath is taken. Instead, Maltese law grants the minister in charge of citizenship full discretion on whether to grant citizenship by naturalization on a case-by-case basis.
For the most part, applications for Maltese citizenship by naturalization are granted, especially to those who:
Have a family connection to Malta but fall short of the full requirements to register for Maltese citizenship by descent.
Are former citizens of Malta.
Were born abroad to Maltese parents.
Have a parent who has acquired Maltese citizenship after you were born.
Those qualifications are not absolutely necessary, but the base requirements are:
You have resided in Malta for five of the last seven years and for all of the last twelve months.
A determination of good character (usually supported by a clean criminal record).
Adequate proficiency in either English or Maltese.
Good candidates for citizens of Malta. (There's the discretionary part.)
As with other routes to Maltese citizenship that have a minimum residency requirement, you'll need to prove your comings and goings with the entry stamps on current and expired passports.
Malta's Citizenship by Investment Program
The Maltese government offers well to do expats the opportunity to buy their way into citizenship. It is known as Malta's Individual Investor Programme and requires investments in real estate and government funds totaling over €500,000.
More details of this citizenship option for investors are covered in this separate guide to Maltese citizenship by investment.
How Long Does it Take to Get Maltese Citizenship?
The answer here really depends on you're starting from and which stream you plan to apply under. For instance:
Citizenship by descent can be successfully recognized within a few months. (But can also take a couple of years depending on the volume of backlogged applications.)
Applications for citizenship by investment, including all of the necessary background checks, are usually processed within six to 24 months.
If you've just moved to Malta and plan to apply for citizenship by naturalization, you'll have to live in Malta for at least five years and become a permanent resident before you can start the application.
The short answer for how long it takes to get Maltese citizenship is that it can be quite quick (as little as a four to five months), often takes a bit over a year and sometimes is a multi-year commitment.
How to Get a Maltese Passport
Once you qualify for Maltese citizenship, obtaining a passport is relatively easy. You can download the application form from Identity Malta's website or pick it up from a variety of locations including the passport office and police stations.
Malta issues a biometric passport that includes an image of your face and your fingerprint encoded on a chip, so you must submit your application in person. You'll need to visit the Passport Office in the Evans Building on Valletta's Merchant Street. Bring the following with you:
If you're a dual citizen of Malta and another country (or countries) you'll need a letter from the Department of Citizenship and Expatriate Affairs recognizing this status.
A properly filled-in application form.
The application must also be signed by a recommender who is a professional or a priest and has known you for at least two years.
Generally, passports are ready to be collected from the passport office four business days after the application was submitted. Those 12 or older have to come to the office themselves and have their fingerprint scanned before their passport will be released.
Adult passports are valid for 10 years. Those who are between 10 and 15 when their passport is issued will have to renew it after five years and passports for children under 10 expire every two years.
What Does it Cost to Get a Passport in Malta?
Identity Malta, the administering authority for all ID documents, publishes a full schedule of passport fees on the last page of the passport application form.  The main ones are:
An adult passport for those 16 and over is €70 (or €80 if you apply from April 1 to August 31.)
Passports for those aged 10 to 15 are €40.
Child passports for those 9 and under are €16.
What Does a Maltese Passport Replace?
If your residence status in Malta grants you visa-free travel in the Schengen zone your e-residence card is what you show when crossing borders within the zone. Getting citizenship in Malta means you're also entitled to a passport and that has the same effect.
Malta and Dual Citizenship
Currently, the Maltese government has no restrictions on holding both Maltese citizenship and that of another country. It is perfectly, at least as far as Malta is concerned, to have and use both a passport from Malta and another country.
But this was not always the case. Between independence in 1964 and the first set of reforms in 1989, thousands of Maltese citizens were faced with the dilemma of renouncing their second citizenship to keep their Maltese passport.
Between '89 and a further set of reforms in 2000, it was only Maltese emigrants who were born in Malta and met certain stringent criteria who could keep Maltese citizenship when they moved abroad.
The rules enacted in 2000 allow for most people who lost their citizenship to regain it, either automatically or by registering with the Maltese government.
Gettings Maltese Citizenship: The Hows and Whys
Malta is an excellent place to live and it's no surprise that many people want to join the rolls of Maltese citizenship. Some of the advantages are:
A strong passport, ranked 9th in the world, along with visa-free access to most of Europe.
The certainty that you'll be able to benefit from Malta's attractive tax rates.
Permanent connection to a progressive society with a stable government.
The ability to vote.
The chief routes to Maltese citizenship are:
By descent for those who can show they have the right familiar connections to a Maltese citizen.
By marriage for those who have been married to a Maltese citizen for five years.
By naturalization for those who have lived legally in Malta for five years.
By investment for those willing to make a large contribution to Maltese investment funds.
I'll be happy to help you navigate the citizenship application process. Get in touch with any questions you have.