As the second-largest island of the Maltese archipelago, Gozo attracts thousands of visitors every year. But not everyone comes to the city just for sightseeing and spending a week of leisure. Some people fall in love with the laid-back and rural charm of Gozo, intending to make it their home for a longer-term.
Finding property for sale in Gozo is not exactly a difficult feat. Still, you need to be familiar with the country's guidelines and the legal framework surrounding real estate purchases by foreigners.
This guide will discuss how you can find the perfect Gozo property to make your home and some tips to make the process a breeze.
Why Buy Property in Gozo?
Although Malta is the first choice that comes to mind, many foreigners prefer living in Gozo due to its old-school appeal. Aside from that, there are several other reasons why you should look for Gozo apartments or townhouses rather than living in another city.
For one, you can get a cheaper property in Gozo than you would in Malta. Secondly, Gozo is a large island, which means you have a wide range of locations to choose from. If you are looking for a picturesque and quiet property, you could find a maisonette easily.
Meanwhile, people who prefer a home closer to the sea or the malls will also be spoiled for choice.
When compared to other areas in Malta, the stamp duty is lower in Gozo. To be precise, it is currently 2%, which is 3% lower than what you would have to pay when buying property in other parts of the country.
8 Tips to Buying Gozo Real Estate
While you can find numerous houses for sale in Gozo, the purchasing process differs based on your country of origin, and the area where you want to buy the property. Here are some tips to keep in mind when purchasing real estate in Gozo.
1. Check the Purchasing Requirements
When purchasing a property in Gozo, you will be subject to different requirements depending on your citizenship and the property you are looking to buy. Regulations differ for residents who are members of the EU and for those who aren't.
Non-EU Resident Requirements
If you are a non-EU resident, you need an Acquisition of Immovable Property permit to buy a home in Malta. Plus, you can only buy one property on the AIP.
However, if you intend on buying a home in the Special Designated Area, you can purchase more than one property.
On average, you will get your permit in six to eight weeks. Upon receiving, you have to submit the permit to the Inland Revenue Department to start the purchasing process.
EU Resident Requirements
As an EU resident, you can find Gozo property for sale direct from the owner without an AIP. But this only holds true for your primary property.
If you have been living in the country for a minimum of five years, you do not need a permit even for buying your second property. As for couples, if one of you are an EU citizen while the other is not, you do not need an AIP, provided it is your primary property purchase.
2. Screen the Houses for Sale in Gozo
Gozo has a thriving real estate market, which means you will always have many housing options to choose from. The trick is to select the right house, maisonette, penthouse, or apartment in Gozo.
Admittedly, the price of a home in Gozo will depend on the property's size and location. But, you can expect to pay more than €200,000 for a house in Gozo. If you buy through a real estate agent, you will also have to pay their fees.
When looking for the perfect property in Gozo, check if it is in accordance with your needs. For instance, if you are moving with the whole family, you would want to live near international schools for your children.
Likewise, if you prefer a seafront view, look for homes near the water.
3. Look for Freehold Properties
Whether you find Gozo property for sale directly from the owner or a real estate site, make sure the house is on freehold rather than leasehold. When you buy a freehold property, you are getting an unencumbered place.
Simply put, it means that you have also bought the plot of land on which the home is built.
Most properties today are freehold, but ground rent is still common in Malta. Thus, it is not unlikely for you to stumble upon a property that is not on freehold. If you purchase this property, you will have to pay ground rent for as long as you live there.
To avoid this extra expense, you should do your best to get a freehold property to exempt you from paying the ground rent.
4. Know the Regulations
If you are buying property in Gozo to use it as a holiday home or personal residence, you only have to fulfil the AIP requirements. Over time, the value of your Gozo property will increase since the Maltese real estate market has experienced consistent growth in the past few years.
Meanwhile, if you want to purchase a secondary property to rent it out, you need to speak to a lawyer. Bear in mind that this option is not available to non-EU residents as they cannot buy a second property.
5. Consider Buying Property in Special Designated Areas
While most other parts of Gozo have restrictions for foreigners, specially designated areas have lenient purchasing processes to attract overseas investment. You do not need a permit to buy property in specially designated areas.
Moreover, there is no limit on the number of properties an expat can buy in specially designated areas. So, if your investment purpose is to rent out the properties, you should opt for these areas.
In most cases, specially designated areas are communal spaces with landscaped gardens. They are present near the best amenities and entertainment options the island has to offer. Because of that, the prices of property in these areas are also much higher.
These are the specially designated areas in Gozo:
Fort Chambray, Ghajnsielem
Vista Point, Marsalforn
Kempinski Residences, San Lawrenz
6. Recognise Older Buildings Might Need Modernising
Some homes, particularly farmhouses and villas, can be quite old. Therefore, they may not have modern necessities, such as modern plumbing and WiFi, etc. If you are buying one of these houses, you need to make provisions for these additional upgrades in your budget too.
7. Know About the Airspace
Since Gozo does not have much space for construction, it is common to find developments with additional floors above existing blocks of properties. A developer can do this legally if they own the "airspace" on the top of the property.
When you buy an apartment in Gozo, clarify beforehand who the airspace belongs to. Typically, the people living on the topmost property own the airspace, or it is divided between everyone on the block.
Another thing to keep in mind is the "use-of-roof" that you might get if you buy an apartment. Basically, it means that the developer will have to make a roof space for you on the top even after building additional floors.
8. Understand the Taxes on Your Purchase
Stamp duty is the only kind of tax you have to pay when buying property in Gozo. As with any other country, it is imperative to understand how taxation works so that you do not end up in a legal pickle at a later date.
The usual property tax does not apply to a house you may have inherited from your parents. Also, the rates are adjusted if your partner dies. Most expats consider Malta to be a tax haven since they do not have to pay land or council taxes. Here is our complete guide on tax laws in Malta.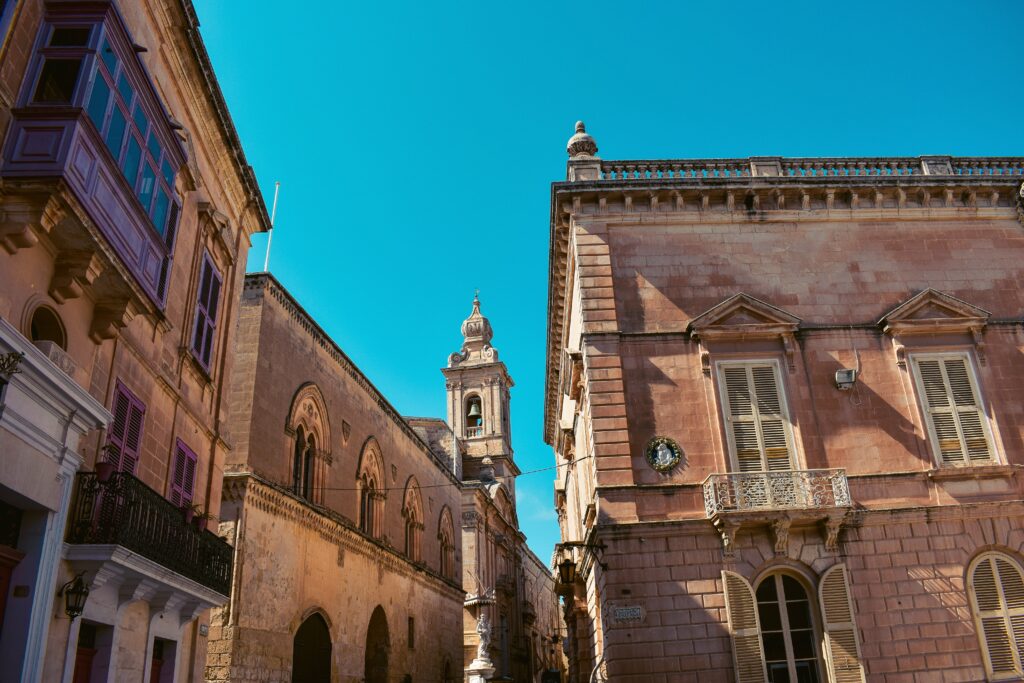 What Type of Property Can You Buy on Gozo?
The real estate in Gozo island is abundant in variety, which means you will not have any trouble finding the kind of home you want. Here are some available options:
Penthouses and Apartments
Penthouses are the ideal property in Gozo for people who want to live in a luxurious space with a spectacular view of the island or the water. As for apartments, they range from two-bedroom spaces to larger ones with five or more rooms.
Most apartments in Gozo have balconies, so you will not be stripped of the beautiful natural views outside, even when living in an apartment building. If you want to be closer to the beach, you can look for luxury apartments in Gozo that are preferred by affluent expats.
The most popular areas to find penthouses and apartments in Gozo are Xlendi, Qala, Xaghra, Mgarr, and Marsalform. Zebbug is at the highest altitude on the island, which makes it the perfect spot for apartments.
Villas
Villas are not as common in Gozo as they are in Malta, but the ones available have pools and manicured gardens.
If you want to live in a slice of history, you can opt for an old-age villa on the island. Meanwhile, minimalist, cheek and modern villas are available for people who prefer 21st-century architecture.
Villas in Gozo are magnificent, to say the least. Along with your standard rooms, they also have dining rooms, reception areas, and even ballrooms overlooking the gardens outside.
Farmhouses
When looking for property for sale in Gozo, farmhouses often come up in the search results since there has been an increased interest in this kind of property on the island in the past few years.
Due to the limited availability of farmhouses, the prices tend to be higher. Some farmhouses are centuries old and still flaunt the architecture and aesthetics from that era. Farmhouses are ideal for larger families since most of them have over four bedrooms.
More importantly, farmhouses have back and inner courtyards for relaxation. If you want to enjoy your post-retirement life away from the hustle and bustle of the noisy city, you should buy a farmhouse in Gozo rather than an apartment.
Final Words
The Maltese government has made it simple for foreigners to purchase property in the country, especially if they are EU citizens. Gozo is a haven for retirees since it offers a quiet and peaceful environment with several nearby entertainment opportunities.
But if you plan on buying property on the island, it pays to familiarise yourself with the requirements — or enlist the help of a professional to guide you through the journey.
Buying property in a foreign country can be scary, but it doesn't have to be. If you want to make the home buying process a breeze, don't hesitate to contact me today. I can help you make your Gozo dreams come true!